Horse of Distinction
The Horse of Distinction award was established in 2009 to honor horses who have distinguished themselves in the sport of Ride & Tie by making a significant contribution to the sport. Horses must be nominated to be considered.  Horses in the Horse Hall of Fame are not eligible. People who nominate a horse will receive a confirmation of their submission, and may later be contacted by one of the judges. The winner will be announced at the annual World Ride & Tie Championship.
To nominate a horse complete and submit the on-line form. A printable version to submit by mail is also available.
Horse of Distinction Recipients
Horse of Distinction 2010: Gavilan
By all accounts, Gavilan, a purebred Arabian, was the quintessential Ride & Tie competitor. He was purchased by Don Betts at the age of five to be a Ride & Tie horse, even though his previous owners said he couldn't be tied. It was not long before it became clear that Gavilan was perfect for the sport. He quickly figured out the game and enjoyed it. He was one those fine animals who would turn when tied to watch for his human partner. And when you were riding him and it was time to stop, you could say, "Find a tree, Gavi!an," and he would head off for the one that looked good to him.
In his 13 years of competing in Ride & Tie Gavilan completed 11 championships as well as 19 other races leading to 912 career miles. Gavilan carried a multitude of human partners in races including Dave and Curt Riffle, Lisa Preston, Julie O'Haver-Schlich, Les Nightingil, Tim Hinrichs, Lupe de la Fuente, Jane Margulis, Lanny Brown, Annie Betts, Bill Mintiens, Russ Kiernan, Martina Kyle and of course the team of George Hall and Don Betts.
Gavilan took care of everyone who rode him whether an experienced Ride & Tie'r, a beginning rider or a small child. Annie's favorite memory of riding Gavilan did not happen during a Ride & Tie race, but rather while going out with a group of backcountry horsemen on their quarter horses to clear trails in the Olympic National Forest. They came upon the raging Dungeness River and while everyone else stopped to stare in dismay, Gavilan, with very little encouragement, walked right in and swam across the river. Gavilan was that kind of horse; willing, wise and brave.
Gavilan died in September 2004 of anaphylactic shock following a penicillin injection at the age of 17. He is sorely missed by everyone who knew him, and none will argue that he truly was a horse of distinction.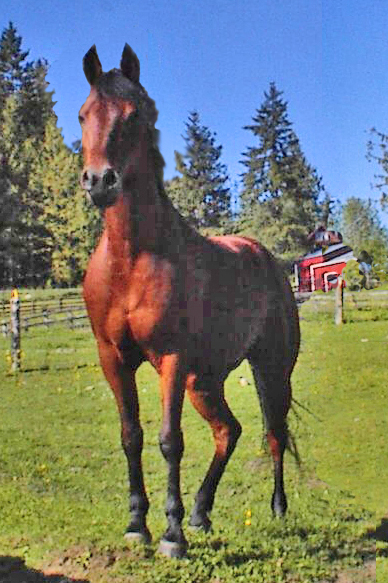 2022 Horse of Distinction Award Recipients
*Dakota*
Owner Rhonda Venable
*Corky*
Owners Skip Lightfoot/Curt Riffle
*Justin*
Owner Rufus Schneider
*TF Red McIntosh/Teabiscuit*
Owners Kathy Broaddus & Lani Newcomb
*After While Crocodile*
Owner Barb Mathews
*Marquitable Assett CCA*
Owner Ben Volk

*Kestrel CS*
Owner Janice Heltibridle

*Bubba*
Owner Janice Heltibridle

*Davanna Tom Cat*
Owner Lea Krueger

*Frisky*
Owner Janice Heltibridle

*Albi*
Owner Mary Tiscornia

*Cougars Clown*
Owner Steve Shaw
*Koona*
Owner Rufus Schneider