About Ride & Tie
The Ride and Tie Association was created in 1988 to provide stewardship for the sport of Ride & Tie. This stewardship is accomplished by the following activities:
Disseminate information about the sport of Ride & Tie to new and potential participants
Through research, analysis and education, assure improvements in the level of competition, horsemanship and athletic performance
Establish rules and standards for Ride & Tie competitions for the protection of the human and equine contestants
Take steps to assure the longevity of the sport of Ride & Tie
Organize the annual World Championship Ride & Tie
Provide a financial and legal structure to solicit donations to further the sport of Ride & Tie

Provide a networking opportunity for members and potential members.
It is organized and operated exclusively for charitable purposes within the meaning of Section 501(c) (3) of the Internal Revenue Code.
The sport of Ride & Tie combines trail running, endurance riding, and most of all, strategy. The objective is to get all three team members (two humans and one horse) across a 20-100 mile cross-country course by alternating riding and running. One team member starts out running, the other starts on the horse and rides down the trail as far as they think their partner can run (or walk) and still keep up a decent pace. At that strategic point the rider stops, dismounts, ties the horse to a tree or fence post, and continues down the trail on foot. The team member who started on foot gets to the horse, unties it, mounts, and rides to catch their partner up ahead. When they get to their running team member they can either stop and exchange (which is called a "flying tie"), or ride further up the trail and tie the horse and then continue running. When, where, and how a team exchanges is up to them and this is where the strategy lies. Every trail runner has their strengths and weaknesses, and the same is true for horses. Factor all this, along with weather conditions and the topography of the course, and you can understand why Ride & Tie is as much mental as physical.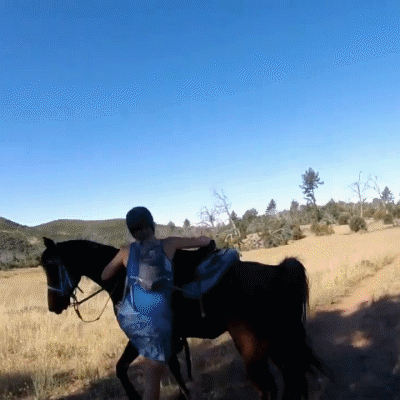 How It All Began
Bud Johns invented the sport of Ride & Tie, staging the first ever Levis Ride & Tie on June 6, 1971 near St. Helena, California.  At the time, he was working for Levi Strauss & Company as public relations director. Levi's was seeking a rugged sport to promote its similarly reputed line of outdoor clothing. As a writer, reader, and student of history, Bud had read of historic accounts where, out of necessity, two people had covered vast distances using one horse between them. One would proceed on horseback while the other ventured forth on foot. At some distance out, the rider would tie the horse to a tree and proceed on foot, thus providing his partner with a rested mount when he reached the horse. In this manner, people could cover more ground faster than if they had both walked, or if one rode and one walked. "What a concept for a race!" thought Bud, and the sport of Ride & Tie was born. Bud organized the first Levi's Ride & Tie in 1971 at St. Helena, California. You can read, in Bud's own words, his account of the sport's conception and first 15 years of its history in his engaging book What Is This Madness?. You can also purchase online from Amazon and other online booksellers, a history of Ride & Tie Championships thru the first 40 years of the sport,  "40 Years of Madness: A History of Ride & Tie Championships" by Annette Parsons to learn more about early races and competitors.
How to Host a Ride & Tie