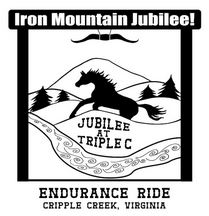 Iron Mountain Jubilee – REGISTER ONLINE!
Location: Cripple Creek, VA  Distances: 25, 50 and 55 mile Ride & Tie; Equathon – tbd  Contact: Barb Mathews, bjdmathews@gmail.com
All races are $120 per team. This covers the race, camping and dinner meals.on Friday and Saturday. This is s fundraising ride for the Backcountry Horsemen of the VA Highlands (who maintain the trails) and the Garrie Bates Memorial Fund (to assist Junior Riders).
Equathon will also be offered. Distances are flexible and can be determined when you arrive.
Online registration through Eric Reuter.    Problems or questions, contact Barb Mathews via email, bjdmathews@gmail.com