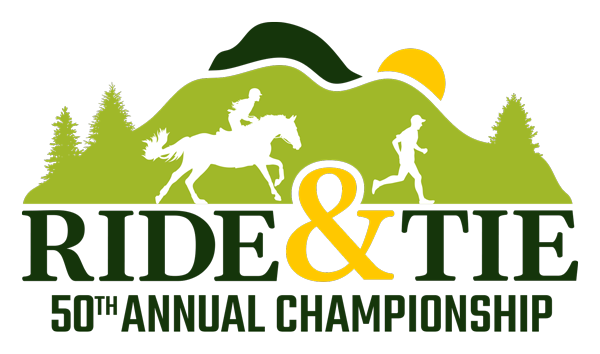 50TH WORLD CHAMPIONSHIP
Ride & Tie World Championship
Originally the Levi's Ride & Tie, this is the annual signature race of the Ride and Tie Association.
Drawing the largest crowd of competitors from across the nation and sometimes even from around the globe, this event is open to all who wish to tackle the sport's pinnacle event.
Historically scheduled for Father's Day weekend, with the intention of making attendance easy for families with school aged children, you might schedule your summer vacation event around this race. As plans for the next Championship are announced, specifics will be posted here. Depending on location, the camp is usually open for a full week before the race.
The World Championship race is not tied to one specific location: the race may be held in a different location each year, or may rest at one location for several years before moving to a new, fresh location.
The World Championship course will be designed to challenge. The mileage is altered from year to year in light of course ruggedness, elevation gain/loss, altitude and other factors that may affect course difficulty. The trail boss is tasked each year to design a course that can be won in 4 hours. Each successful team completing the full course, regardless of time, is awarded a pair of custom designed commemorative belt buckles. A short course is generally offered, concurrent to the World Championship, for those not prepared for the full challenge.
Free entry for international teams: write to international@rideandtie.org to nominate your team for the free entry. One team per country will receive free entry to the Ride & Tie World Championship. Multiple entries per country are welcome: the complimentary entry will be awarded to the first team to nominate.
A limited number of horses are usually available for lease. The Ride and Tie Association bears no responsibility and has no involvement in the leasing of horses. If you can establish your competence as a rider and a person who will treat the horse humanely; if you are willing to enter just for the fun and withdraw at the slightest indication the health of the horse will benefit from your doing so, then ask about lease arrangements.
Sample race pages from past years provide you with an idea what kind of information will be available here in the future for the coming year's race:
Check back later, this page will be replaced once specific information is available for the next Ride & Tie World Championship.
ALL COMPETITORS MUST BE MEMBERS OF RIDE & TIE ASSOCIATION.
Championship Race History: World Championship Race History
Cost: See Entry Form

Race Director:  Sequoya Russ 707-845-6039 duncme2@gmail.com
Location:  Cuneo Creek Horse Camp, located in Humboldt Redwoods State Park, CA

Horses May Be Available To Lease:  none at this time
Printable Entry Form
Things to Know:  In the early 1900s, loggers came to what is now Humboldt Redwoods State Park to cut down lofty ancient redwoods for grape stakes and shingles. The founders of Save the Redwoods League thought that was akin to "chopping up a grandfather clock for kindling." From the acquisition of a single grove in 1921, the League has raised millions of dollars to build and expand this park. Today Humboldt Redwoods spans 53,000 acres, an area almost twice the size of San Francisco. About one third, or 17,000 acres, of the park is old- growth redwood forest—the largest expanse of ancient redwoods left on the planet. The South Fork of the Eel River provides excellent opportunities for fishing, boating, picnicking, and swimming. More than 100 miles of trails await hikers, bicyclists, and equestrians. Summer temperatures range from 70s to 90s, with lows in the 50s. Visitors should come prepared for any type of weather. The park receives between 60 and 80 inches of rain per year; the vast majority falls between October and May. Rain in the summer season is unusual, but does occur. In the summer, frequent morning fog usually burns off by noon.
Prizes/Awards:  All participants in each race will receive an athletic t-shirt. All long course finishers in the Ride & Tie as well as in the equathon will receive belt buckles. Turtle awards will be presented for each race.  Volunteers will receive a hat, a brown bag lunch and an awards dinner for free!  Awards include:
Long course Ride & Tie: 

Best Condition Horse – embroidered horse blanket

1st place Man/Man, Woman/Man, and Woman/Woman will be receive camp chairs

2nd place Man/Man, Woman/Man, and Woman/Woman will be receive gym bags
3rd place Man/Man, Woman/Man, and Woman/Woman will be receive stadium blankets

Short course Ride & Tie:

1st place Man/Man, Woman/Man, and Woman/Woman will be receive camp chairs
2nd place Man/Man, Woman/Man, and Woman/Woman will be receive gym bags
3rd place Man/Man, Woman/Man, and Woman/Woman will be receive tote bags

Long course Equathon:

1st place Man/Man, Woman/Man, and Woman/Woman will be receive camp chairs
2nd place Man/Man, Woman/Man, and Woman/Woman will be receive gym bags
3rd place Man/Man, Woman/Man, and Woman/Woman will be receive stadium blankets

Short course Equathon:

1st place Man/Man, Woman/Man, and Woman/Woman will be receive camp chairs
2nd place Man/Man, Woman/Man, and Woman/Woman will be receive tote bags
3rd place Man/Man, Woman/Man, and Woman/Woman will be receive tote bags

Special awards will be presented which "may" include: the team traveling the furthest; oldest team competing, top Pro/Am and Am/Am teams, among others…
Wednesday camps opens at 2:00 pm.

Thursday

Check in and vetting for Equathon participants

Board meeting at 5:00 pm

Potluck after board meeting

Friday

8:00 am – Start of Equathon Long and Short Course

Check in and vetting for Ride & Tie Championship and Short Course

4:00 pm – Equathon Awards Dinner

7:00 pm – Ride meeting for Ride & Tie Long and Short Course

Saturday

Ride & Tie Championship and Short Course

Awards Dinner & Drawing for Specialized Saddle

Sunday camp closes at noon.

Potluck on Thursday night for those who want to participate.

Awards dinner on Friday night for Equathon participants. Equathon volunteers eat FREE.  There will be a LIMITED number of tickets available for purchase for everyone else. Please inform the ride manager if you want tickets for your family friends.

Awards dinner on Saturday night for Ride and Tie participants. R&T volunteers eat FREE.  There will be a LIMITED number of tickets available for purchase for everyone else. Please inform the ride manager if you want tickets for your family friends.

Directions to the Race Site:  The camp is approximately 7.3 miles west of Highway 101 on the road to Honeydew, just north of Weott, between Eureka and Garberville. Take Exit 663 (Rockefeller Forest/Honeydew) (from the south take a left turn at the stop sign and an almost immediate second left turn under the freeway) and go west 8 miles on Mattole road through the State Park to Cuneo Creek Horse Camp, which is just past a small cemetery on the right side of the road. As you drive into camp, please note that Ride and tie has reserved all of the spaces to the left and behind the bathroom building. All spaces to the right as you drive in are either day-use or pay-per-night, if you'd prefer to camp below you'll have to check with the camp host to see if those sites are available.
Hay and Feed Info:  There are no hay restrictions at this event. There will be alfalfa and grass hay provided at the vet check area mid race and at the finish line, as well as carrots.

Camp Open Date:  Ride camp opens at 2:00 pm Wednesday and closes at noon on Sunday. For additional camping, contact Humboldt Redwoods State Park at 707-946-2409. Early/late stays warrant additional camp fees to the Park.
Camp has coin operated showers (25 cents for 2 min Quarters only), flush toilets, picnic tables, fire rings with grills, potable water, a sand pit for rolling your horse, water troughs, a manure dump bin and wheel barrows, bear lock boxes, water spickets (hoses not provided), a group area with long tables for our awards dinner, and 38 horse corrals spread throughout the campgrounds. In order to allow for participants to get first option to use the corrals, the corrals will have to be reserved through the race director – they will NOT be first come first serve. There are many mature trees in camp which provide shade at most every campsite, as well as many apple trees, that the black bears love to climb in and eat from. We will also share the camp with deer that are not afraid to walk right up to you, wild turkeys, and ground squirrels; the RULE of the state park is NO LOOSE DOGS, NO EXCEPTIONS ALLOWED. You can be ticketed if you do not respect this rule and it will bring unnecessary stress to the event. Please leave your dogs at home if you cannot follow this rule. Wood collection is not allowed so bring your own firewood.
Both the long and short course ride and tie will start together on Pole line road at 8:00 am.  Because of the way that Cuneo Creek is set up there is no safe way to start our race in camp, instead we all get to warm up together by walking or riding to the start line which is approximately a little over a mile from camp. If we have a low amount of combined short and long course teams, then the start line will be run as a staggered start out of camp.  Teams will leave every 5-10 min, and make their way at a WALK across the paved road, up the paved hill and then be allowed to trot away down the single track to Pole Line, to claim victory…after a lot of hard work and miles!  If you're a fast moving LONG COURSE team you will be starting at 8:00, the next group of fast moving teams will start at 8:10 and so on the slower moving teams will start after the speedsters leave. Your total time will be your finishing time and will rank you for placement. This adds a wee bit more of a challenge to the race as you won't know if your in first unless NO one passes you, and at the same time someone could pass you but they left many mins behind you so you still have a buffer. The reason for this option is to keep from having to make everyone hike a little over a mile to the big wide road where we can have an old fashioned start. You will learn which start we plan to have by registration day. If we have the start on Pole Line, there is a small creek crossing which we intend to make a dry way across. There will be a limited amount of rigs allowed to drive up to the start line from the service road access point off Mottole Road. Those who can not make the walk up to the start will have the option to car pool from the service road, details on that will be covered at the ride meeting Friday night. Worry not there will be a porta potty at the start line this year!!
RIDE & TIE
LONG COURSE:  elevation gain approximately 5,900 ft

Loop 1: Pole line is 2.5 miles of gravel service road that climbs up and up, which will help get some of the hotness out of your horse. There is plenty of room to tie on the sides of this road, and or hand tie within the first mile of the start. At the top of pole line you will turn right onto Peavine ridge which is 8 miles long. At this time in the morning (even if camp had bright blue skies above it) it is very common to all of a sudden find yourself in thick, dripping wet, fog. The wind is usually ripping pretty good up on top too, so be prepared. The highest point of the race is here on Peavine ridge at 2,200 ft elevation, while camp is at 470 ft elevation. You'll then follow Look Prairie down for 4.0 miles to Bull creek trail where you will hit some fun single track with many bridges that takes you to the Albee creek vet check area at 16 miles.
Loop 2: You'll leave the vet check by crossing over the bridge into Albee creek campground, there you turn left into the meadow and follow the ribbons down to your first creek crossing. After the creek crossing you will cross Mattole Road to Grasshopper, which is a gravel service road that will take you 5 miles up to 1,600 ft elevation. You'll then cross over to the Johnson trail, which will take you down for 6 miles on single track switch backs. At the bottom you'll come across some of the biggest trees you may have ever seen, it is called big tree area for a reason. Enjoy the soft footing of this trails redwood undergrowth for 1 miles, because your about to get you feet wet again, as you cross back over bull creek and head to Albee creek for your second out vet check at 28 miles.
Loop 3: You'll leave the vet check and head up Thornton about a quarter of a mile, then turn left onto the Homestead trail. Follow Homestead all the way to camp.  Within this last 3 miles of your very long day… you'll get your feet wet 3 more times… so if you're looking to avoid that tell your partner at the last vet check, they can find their ride on the other side of the third creek! This is an easy rolling route home, but it can get HOT as much of it is not in the shade so enjoy the refreshing creek crossings and run runner run for those dry socks and that finish line photo!!
SHORT COURSE: elevation gain approximately 4,500 ft

Loop 1: Head up Pole line for 2.5 miles, turns right onto Peavine Ridge and continue up and along the ridge for 4.3 miles, you will share the trail with the Long course up to this point, ( for more information of the first half of your loop see loop one of Long course above). You'll turn right onto Thornton, which is a single track trail, if you are not a rider but find yourself on the horse here… wait for your rider so you can run down this beautiful section of the trail. There aren't a lot of wide sections to tie on this section of the course. Do it at the top if you don't want to ride the 5.2 miles down to the vet check at Albee creek.
Loop 2: You'll leave Albee Creek vet check back up the way you just came in on Thornton, about a quarter mile up the bottom of Thornton, you'll turn left onto the homestead trail. You'll follow the homestead trail for about a three quarters of a mile, then turn left again, the trail goes along the Creekside below Albee camp, (it will seem like your headed in a circle back to the vet check but you aren't) you'll take a right towards and across the refreshing waters of Bull creek, cross Mattole Road, and head 2 miles up Grieg road to Baxter. This is another 2.5 miles of single track trail, so if you'll looking to ditch your ride, do it before you head down Baxter as there aren't a lot of wide spots to tie up at. At the bottom of Baxter you'll get another chance to cool off your feet in Bull creek, cross Mattole Road again and jump back onto Homestead trail for another 1.5 miles to camp, and your well deserved finish!!
EQUATHON
LONG COURSE: (elevation gain approximately 2,500 ft per rider/runner) Control start out of camp with short course. Rider Follows Homestead trail to Albee camp through 3 crossings, cross Mattole Road head up Grieg road to Baxter back down to Mattole Road crossing, turn left back onto Homestead trail, follow that back to camp to vet in your horse, then turn around and do it again on foot or tag your partner and have them go get it done! 10 miles for the rider and same 10 for the runner easy peasy!!
SHORT COURSE: (elevation gain approximately 1,000 ft per rider/300 ft per runner) Control start out of camp with long course. Rider Follows Homestead trail to Albee camp through 2 creek crossings, where they politely tell an awesome volunteer their number then turn around and race back home the way they rode out, being careful not to run the other people coming your way off the trail. Once your horse passes the vet check you run out the same way you just came in, or tag a partner to do it for you. The runner will run 1.5 miles out to another turn around near Baxter environmental campground and politely tell another super rad volunteer their number, then head back to camp avoiding collision with another runner to the finish line!!
Riding The Trail 
The course will include dirt/gravel service roads. As well as technical woodlands single track trails. There will be bridges to cross, as well as small streams and creeks. Hoof protection is recommended. Helmets are required for junior riders while mounted.
Region Activities:   Some favorite locations include the Founders Grove Nature Trail, the 32-mile Avenue of the Giants Auto Tour, and the Humboldt Redwoods Visitor Center. The visitor center offers a wide variety of fun and educational exhibits and activities, including a theatre, displays, a bookstore, and the famous Kellogg Travel Log—the world's first RV, carved out of a fallen log and driven cross-country four times. Bird-caller Charles Kellogg promoted redwoods conservation and the fledgling Save the Redwoods League in his unique motor home. Catch and release fishing for salmon and steelhead is allowed in the South Fork and Main Stem Eel River. Visitors can also fish for lamprey and Sacramento pike minnow, formerly known as Sacramento squawfish, year-round. There is no fishing in other waterways. Fishing is primarily a fall and winter activity after the rain begins and the river rises from the long, dry summer. Theres nothing like a cool dip in the water on a hot summer day! River access and swimming holes are located throughout the park on the South Fork and Main Stem Eel River. Bull Creek is also a great place to cool off by wading in the creek. Several swimming holes are located near day use areas, which make it convenient to spend the whole day picnicking, swimming or just relaxing. For road cyclists, both the Avenue of the Giants and Mattole Road are paved roads suitable for biking. However, Mattole Road is quite curvy and although it is paved, there are many rough sections and potholes. The 32-mile Avenue of the Giants is quite popular with cyclists and offers a unique way to see the park. There are plenty of scenic places to stop along the way, including day use areas with restrooms and picnic tables when it';s time for a break. When planning a route, its important to keep in the mind that the Avenue of the Giants is considered a two lane highway, and the speed limit is 55 mph along the majority of the road. There is no shoulder in some areas, making this unsuitable for young children. Most families spend time riding within the campgrounds. Mountain biking is also popular in the park. Due to resource protection and erosion concerns, mountain bikes can only be used on the Multi-Use Trails, which are open to hikers, bikers, and equestrians. The multi-use trails are rather steep and are best suited for experienced mountain bikers rather than novices or children. Humboldt Redwoods does not offer any single track and dogs are not allowed on trails.
Volunteers Wanted:  To help with setting up vet check area, taking horses pulses, writing down participants numbers as they come into and go out of vet checks, scribing for vets, holding horses for riders, filling water troughs, directing traffic of all kinds. A horse ambulance driver is needed to bring any pulled horses back to camp from the vet check. Will also need people to stand at 1 of 2 aid stations along the course for the equathon on Friday and drag riders to pull down the course ribbons on both Friday and Saturday! Contact RM to volunteer.
Lodging & Accommodations:  There are many areas other than Cuneo Creek to camp in Humboldt Redwoods State Park, like Albee Creek – where the mid-way vet checks will be held, Burlington, Hidden Springs, as well as Environmental Camps that offer visitors a tranquil alternative to developed campgrounds and many more. If you're interested in camping at those instead, go online to Humboldt Redwoods State Park to find out more about them. For hotel accommodations the closest spots would be:
Myers Inn, 12913 Avenue of the Giants, Myers Flat, CA 95554 • (707) 943-3259

Redcrest Resort, 26459 Avenue of the Giants, Redcrest, CA 95569 • (707) 722-4208

Humboldt Gables Motel , 40 W Davis St, Rio Dell, CA 95562 • ( 707) 764-5609
Additional hotels over an hour away from Cuneo Creek include:
Comfort Inn & Suites Redwood Country, 1583 Riverwalk Dr, Fortuna, CA 95540 • (707) 725-7025

The Redwood Riverwalk Hotel, 1859 Alamar Way, Fortuna, CA 95540 • (707) 725-5500
Local & Regional Businesses:  Restaurants: The closest restaurant approximately 40 min from camp at 26412 Turner Ln, Redcrest, CA 95569 is NOW PERMANENTLY CLOSED.  Additional restaurants in the area as of 2022:
The Patron Kitchen · 70 B Wildwood, Rio Dell, CA 95562 about 40 min from camp
Redwood Palace 6735 Avenue of the Giants Miranda, CA 95553 about 45 min from camp
The Lost Frenchmen 3344 REDWOOD DRIVE REDWAY CALIFORNIA 95560 about 50 min from camp
The closest grocery store is approximately 45 minutes away from Cuneo Creek Marinda Market, 6685 Avenue of the Giants, Miranda, CA 95553
Area Services:   Fortuna Ca, is the nearest big town which has a Safeway, Starbucks, fuel stations, many restaurants, banks, a tractor supply store, brewery and auto services.
Major Airports:  The closest airport is California Redwood Coast-Humboldt County Airport, 3561 Boeing Ave, McKinleyville, CA 95519 • (707) 839-5401, which is an hour and a half away from camp. You could always fly into San Francisco and drive to camp over Highway 1, which has some of the most beautiful coast line you may ever see.
Things To Do In The Area:  See Region Activities

Closest Human Hospital:   The closest is Redwood Memorial Hospital at 3300 Renner Dr, Fortuna, CA 95540•(707) 725-3361. UC Davis Medical Center is 5 hours away at 2315 Stockton Blvd, Sacramento, CA 95817 • (916) 734-2011.
Closest Horse Hospital:  Large and small animal hospitals are located in Fortuna Ca:
North Coast Veterinary Hospital (equine) – 2180 Drake Hill Rd, Fortuna, CA
95540 • (707) 726-9262.  Riverwalk Animal Hospital (small animal) – 20036346, Fortuna, CA 95540 • (707) 725-6154